View congratulatory video from the chancellor
Dear Class of 2020:
Congratulations on achieving this consequential milestone on the journey of a lifetime.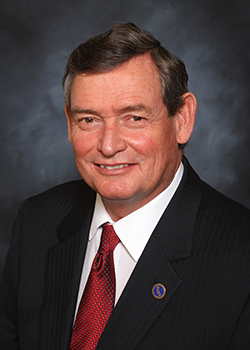 I am sure that, when you look back upon your commencement in the years to come, it will be with mixed emotions. Most often, you'll be filled with pride and a powerful – and well-earned – sense of accomplishment. Perhaps sometimes you'll relive a sense of amazement at attaining a goal that, at times, felt more than a little daunting. At other times, you may feel disappointment because of the unique and disruptive challenges brought on by the COVID-19 pandemic. I understand. The culmination of your college experience was not as you had expected – a virtual celebration following months of virtual learning, made necessary by this global public health crisis of historic proportions.
On this last point, it is my hope that you will also remember the ingenuity, adaptability, resilience and indomitable spirit you, your classmates, and your faculty and staff have demonstrated during these unprecedented and challenging times. I know I will. I will forever admire the class of 2020, and you will always hold a special place in my heart. And I have every confidence that the qualities that you have shown through these difficult days will continue to serve you well as you encounter life's inevitable periods of hardship and uncertainty.
So today, we celebrate you – and all the hard work, perseverance and scholarship that brought you to this day.
Of course, you did not make this journey alone. We also recognize the faculty who deepened your knowledge and inspired you to see the world from new perspectives. We acknowledge the counselors, advisors, librarians, coaches and support staff who championed you at every turn. And indeed, we appreciate the family, friends and loved ones who encouraged you, uplifted you and supported you along the way. Please remember to thank these important people, and let them know how much their support means.
We call today's celebration a "commencement" because it is not an end, but rather a new beginning. As you start the next chapter of your life, I urge you to continue to wholeheartedly pursue knowledge, truth and innovation, and to strive to elevate your community, state, nation and – indeed – the world, as you achieve your personal and professional goals.
And I encourage you to stay in contact with your campus and the larger California State University community. Connect with classmates, seek out faculty as mentors and join alumni chapters. Look for opportunities to inspire and support future generations who seek to follow in your footsteps.
As a proud CSU graduate myself, I welcome you to the world's largest and most influential alumni community – more than 3.8 million strong.
On behalf of the entire California State University, again, congratulations to the truly remarkable class of 2020.
Sincerely,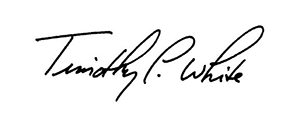 Timothy P. White
Chancellor