Please Participate
Faculty will be part of the platform party on stage. You can expect to spend 2-3 hours for the ceremony as your assigned work day. The students love to see their faculty as they cross the stage and meet with faculty afterward to introduce family and friends.
Parking
We encourage parking in lot A located next to the Art Building. If you are attending the last commencement of the day, please park in lots G or H next to the PE Building. If you would like an escort to your vehicle after dark, please call (707) 664-4444.
We appreciate your help and making the lots directly across from the GMC open for graduates and their families and friends.
Arrival
Below is the schedule for the platform party for each ceremony.
Arrive
1.5 hours prior to ceremony
Robing
45 minutes to 1 hour before ceremony start time
Platform Party Photo
30 minutes before ceremony start time
Line Up for Processional
15 minutes before ceremony start time
Where To Go
Faculty and members of the platform party should enter through the artist entrance of the GMC. It is accessed from the service road at the back of the center that is located at the end of Redwood Drive, just off Rohnert Park Expressway. See map below.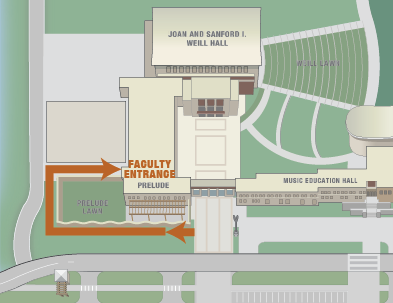 Regalia
We have 60 master's and 60 doctoral in various sizes. There has been an ample supply in previous years, so reservations are not needed.
Regalia will be found in the Founder's Room at the Green Music Center, and it is open one hour prior to each ceremony.
Accessibility
The platform party route to the stage includes a small number of stairs. Faculty who require assistance may join the platform party at the stage right entrance. Please email Caroline Neyman if you are unsure of the location of the stage right entrance and she will assist you on Commencement day.