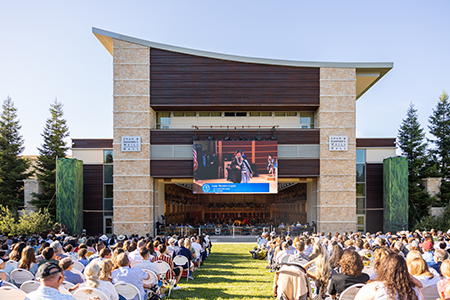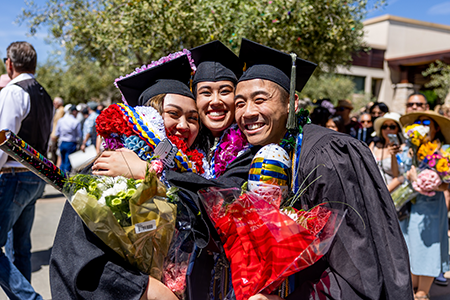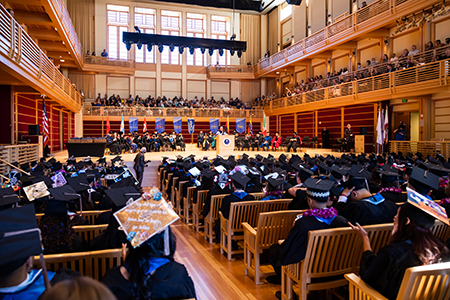 2023 Commencement Weekend
Saturday, May 20, 2023
9 a.m. School of Business and Economics
Business Administration; Economics
1 p.m. School of Science and Technology
Applied Statistics; Biochemistry; Biology; Chemistry; Computer and Engineering Science; Computer Science; Earth Science; Electrical Engineering; Electrical and Computer Engineering; Geology; Kinesiology; Mathematics; Nursing; Physical Science; Physics; Statistics
5 p.m. School of Arts and Humanities
American Multicultural Studies; Art (Studio); Art History; Chicano and Latino Studies; Communication Studies; Dance; English; French; Hutchins School of Liberal Studies; Liberal Studies (Saturday Degree Completion); Music; Philosophy; Spanish; Special Major, German Cultural Studies; Theatre Arts
Sunday, May 21, 2023
9 a.m. School of Education
Early Childhood Education; Early Childhood Studies; Education; Educational Leadership; Liberal Studies (Ukiah, Napa, Solano, Marin); Teaching Credential
1 p.m. School of Social Sciences A
Anthropology; Counseling; Cultural Resources Management; History; Human Development; Political Science; Psychology; Public Administration; All Social Science Master's Degrees
5 p.m. School of Social Sciences B
Criminology and Criminal Justice Studies; Environmental Science, Geography, and Management; Environmental Studies; Environmental Studies, Geography, and Planning; Geography and Environment; Global Studies; Sociology; Women's and Gender Studies
How to Do Commencement at SSU
Enjoy this video that shares important pointers and things to do that will make your Commencement joyous and memorable for you and your family and friends.
Congratulations Class of 2023! Get your Grad Pack
Available exclusively through the Alumni Association for only $50, your Grad Pack includes your first set of limited-edition alumni swag and exclusive discount savings.
What's included in your Grad Pack?
Complimentary life membership with the SSU Alumni Association ($99 value)
Exclusive alumni t-shirt
3-1 light-up charging cable
License plate frame
Exclusive donor cords to wear at your Commencement ceremony
Discount savings and more!
$10 of the purchase goes to the 2023 class gift to support The Hub Cultural Center at Sonoma State University.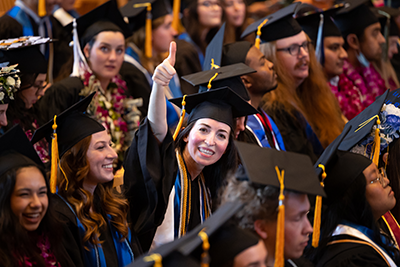 The HUB Cultural Center fosters connection, cultivates meaningful conversation and builds community within and between diverse cultures. The programs and events focus on inclusivity, equity, and community-building.
If you have any questions, please contact the Alumni Engagement office at alumni@sonoma.edu or (707) 664-2426.
Eligibility
You are eligible to participate in Commencement 2023 if you:
Graduated in Fall 2022
Have applied for graduation in Spring 2023
Have applied for graduation in Summer 2023
If you haven't graduated or applied to graduate and have questions about the process, please visit the Office of the Registrar website to find out more.
If you are not eligible to participate in Commencement 2023 and would like to seek an exception, please send an email to commencement@sonoma.edu providing your name, major, student ID and your plans for graduation. You will receive a message from a contact at the appropriate school within 10 days.
Commencement is a ceremony to honor our annual graduates but please keep in mind that participation is optional and is not the same as actually graduating from SSU. You will officially graduate after grades have been finalized and only if ALL degree requirements were completed by the end of the semester you applied to graduate in. Learn more about how to apply to graduate at the Office of the Registrar website.
 
The ARR (Academic Requirements Report) determines a student's graduation eligibility and the current 'graduation status' is listed at the top left corner of the ARR. If you have questions or concerns about your graduation status, please contact your graduation team specialist.
Traffic Advisory
If you are traveling from the East Bay to attend Commencement, please note Highway 37 will be closed Saturday, May 20 at 3 a.m. and will reopen on Sunday, May 21 at 11 a.m. A contractor for the Sonoma-Marin Area Rail Transit District (SMART) will reconstruct the railroad crossing near the junction with Highway 121 at Sears Point. 
Highway 37 will be closed immediately west of Noble Road and immediately west of the railroad tracks near Sears Point.
Travelers driving westbound will be required to take Highway 29 to Highway 12, then take Highway 121/Arnold Drive to Highway 37.
Travelers driving eastbound will be required to take Highway 121/Arnold Drive to Highway 12, then take Highway 29 to Highway 37. Westbound drivers can also continue on Highway 12 to Interstate 80. 
Learn more about the highway closure.
Questions? Contact commencement@sonoma.edu