Congratulations!
On behalf of Sonoma State University, we would like to congratulate our undergraduate and graduate students on receiving their degrees. The commencement ceremonies are for the graduates and their families to join in the celebration of this momentous occasion.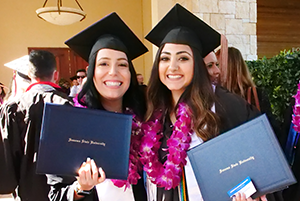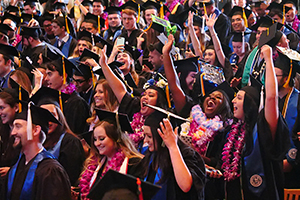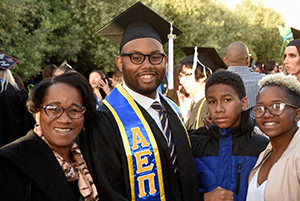 2020 Ceremonies
SATURDAY, May 16
9 a.m., School of Business and Economics

Business Administration, Economics
1 p.m., School of Science and Technology

Applied Statistics, Biochemistry, Biology, Chemistry, Computer and Engineering Science, Computer Science, Earth Science, Electrical Engineering, Geology, Kinesiology, Mathematics, Nursing, Physics, Statistics
5 p.m., School of Arts and Humanities

American Multicultural Studies, Art (Studio), Art History, Chicano and Latino Studies, Communication Studies, English, Film Studies, French, German Cultural Studies, Hutchins School of Liberal Studies, Music, Organization Development, Philosophy, Spanish, Theatre Arts
SUNDAY, May 17
9 a.m., School of Social Sciences A

Anthropology, Counseling, Cultural Resources Management, History, Human Development, Political Science, Psychology, Public Administration
1 p.m., School of Social Sciences B

Criminology and Criminal Justice Studies; Environmental Studies; Geography; Geography, Environment and Planning; Global Studies; Liberal Studies; Sociology; Women's and Gender Studies
5 p.m., School of Education

Early Childhood Studies, Education, Organization Development, Teaching Credential
If you have any questions regarding Commencement, please email commencement@sonoma.edu or call 707-664-2018.